Management team
First Super is managed by a Trustee, First Super Pty Ltd (ABN 42 053 498 472). The Trustee is responsible for ensuring First Super is managed in accordance with the trust deed and the relevant law. The Trustee holds professional indemnity insurance.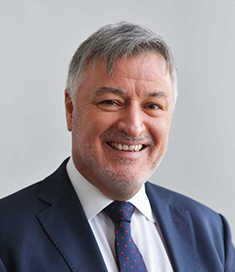 BILL WATSON
Chief Executive Officer
Bill Watson was appointed CEO of First Super in March 2013 bringing to the Fund a wealth of knowledge in the financial services and superannuation industry, public transportation, global consultancy, public policy and government relations. He has extensive executive management experience and held senior roles at Evans and Peck, Statewide Financial Management Services, TransAdelaide, State Transit Authority and Adsteam Marine.
Bill is a Director of The New Daily and has held directorships on the boards of Motor Trades Association of Australia Superannuation Trust, Vehicle Industry Superannuation Trust, Legal Industry Superannuation Scheme and Adsteam Marine Staff Superannuation Fund.
Bill holds a Master of Applied Finance, Graduate Diploma of Human Factors and Safety Management Systems and Bachelor of Law.
MAXINE JACONA
Executive Manager - Governance
Maxine Jacona was recently appointed Executive Manager Governance of First Super, having first joined in May 2016 bringing to the Fund a wealth of knowledge in the financial services and superannuation industry. She has more than 17 years' experience and held positions at Legal Super, Equity Trustees Superannuation and Health Super.
At First Super Maxine is responsible for the company secretarial, management, implementation and improvement of corporate services and overseeing the governance and regulatory compliance function.
Maxine holds a Bachelor of Law and Commerce, Diploma of Financial Markets and a Certificate in Superannuation Management.
At First Super we are passionate about partnering and engaging with our employers and members and are proud of making a real financial difference for our members and thus helping them achieve dignity in retirement.