Choose First Super as your default super fund
If you pay super for your employees, then you're required to nominate a default super fund for your workplace. This is for any employee who doesn't already have a fund or select one of their own.
Choosing a high-quality super fund can mean both a better retirement for your employees and easier super administration for you.
If you're not already with us, why not get in First?
HERE'S HOW WE PUT EMPLOYERS FIRST
Our local Coordinators offer hands-on service. Give yours a call or an email any time you have queries about superannuation rules or payroll.
We'll let you know whenever superannuation rules change so you can quickly adapt your business for whatever's coming next.
We believe in keeping members educated and informed about their super, so we offer workplace and one-on-one site visits. But we slot into your schedule, not the other way around.
Easy payment options. We offer a free and secure Clearing House to take the hassle out of making super contributions.
More details of our services for employers can be found in our 'Choosing First Super' booklet.
BENEFITS FOR YOUR EMPLOYEES
The super fund you choose for your workplace could make a big difference to your employees' future. Here's what First Super offers.
We've consistently delivered strong investment returns for members, with the First Super Balanced option returning an average of 9.44% for the year to 30 June 2023*.
We're an industry super fund. That means we don't keep profits for ourselves – we return them to our members.
We work hard to keep fees down, because we know every cent counts towards growing members' retirement balances.
Our contact centre answered members calls on average in 40 seconds – not even long enough to make a coffee!
We believe it's never too early or late to benefit from financial advice, and our advisors can work with members to plan and set up the right strategy. Advice may be at no extra cost as part of members' administration fees.
THERE ARE RULES AROUND CHOOSING A DEFAULT FUND
The fund you nominate must be:
a complying fund that meets certain obligations under superannuation law
registered by the Australian Prudential Regulation Authority (APRA) and offer a MySuper product.
First Super meets both these requirements. You can check this on Superfund Lookup.
You should also check that you can nominate First Super. Some employers are governed by Modern Awards or Agreements that determine where they can pay super. If you're not sure if there's an award for your industry, use Industry Super's Default Fund Finder to find out.
TALK TO US ABOUT CHOOSING FIRST SUPER
Our Business Development Managers, Lee and Tony, specialise in helping employers transition their default super arrangements to First Super. Chat to us about making the best decision for your workplace.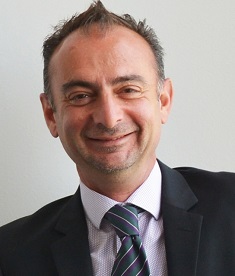 Lee Surace
Business Development Manager
Region: NSW, ACT, QLD
Mobile: 0419 847 179
Email: lee.surace@firstsuper.com.au
Authorised Representative Number: 1256631
Tony Papantoniou
Business Development Manager
Region: VIC, SA, TAS
Mobile: 0417 542 415
Email: tony.papantoniou@firstsuper.com.au
Authorised Representative Number: 1285929
*Past returns are not an indicator of future returns.
Issued by First Super Pty Ltd (ABN 42 053 498 472, AFSL 223988), as Trustee of First Super (ABN 56 286 625 181). This article contains general advice which has been prepared without taking into account your objectives, financial situation or needs. You should consider whether the advice is appropriate for you or read the Product Disclosure Statement (PDS) before making any investment decisions. To obtain a copy of the PDS or Target Market Determination, please contact First Super on 1300 360 988 or visit our website at firstsuper.com.au/pds.